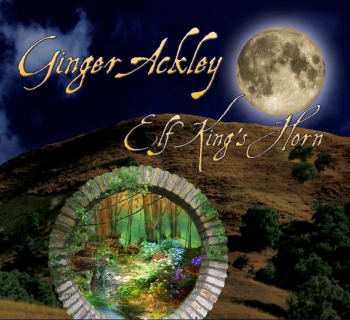 My friends, I just received this beautifully written review of my new album from Nan Bovington writing for Autoharp Quarterly!  It should be included in the Spring 2016 issue...  so be sure and grab a copy!   Here is what Nan sent me:
"Ginger Ackley is an active songwriter, musician, recording artist and performer. She has released several CD's and also maintains an impressive website, where I was able to read about her life (from Texas to Ireland, and many points between!) and see and hear selections from Elf King's Horn, her latest album - as well as songs from her previously released material.
 I'd have sworn her Elf King songs were ancient melodies and mythical ideas from days bygone...but this is original material, convincingly written 'in the old style', according to the Scotsman, Andy Stewart, of "Silly Wizard". The mysterious and magical themes Ginger employs, are introduced by sub messages located by the song titles.....such as: 'a daughter of the Celtic sea god longs for her father...' (Manannan Mac Lir); 'If a Fairy girl fell in love with a human boy...' (Moonlady); 'If you should find a Faery Ring...' (Faery Ring); 'The mist moved over the pond and surrounded me...' (Mist Wraith).
 On the opening cut, "Fairy Tale", Ginger plays a plaintive and haunting melody on penny whistle, accompanied by Brian Henke on guitar. It is a very effective collaboration, though at first I was surprised not to hear any remarkable autoharp soloing .However, her penny whistle playing is stunning - accurate, tuneful---no tweedling!--and it accompanies the other instrumentals and vocals very well, whatever the song or material. About the modest, by comparison, use of autoharp...in fact, isn't part of what we 'in the community' of 'harpers hope to see happening in small group or string band music--the inclusion of the autoharp as an expected musical partner? Making music? Got guitar? Got ___________ (whistle, flute, banjo, vocal, mandolin)? Got autoharp? It doesn't have to steal the show----just to be an expected and respected part of it.
Ginger's voice is clear and lyrical - very Celtic sounding. Who would have recognized her as a native Texan? Her fellow musicians' contributions are pleasing and appropriate, naturally woven into the fabric of the whole musical tapestry. Brian Henke (the CD's producer) on guitar, Steph Dlugon's sweetly melodic violin and Raven Dana's vocals (especially on "Green The Hills"------'as the ship heads into a new land, everything she knows fades into the distance....') all blend with the minor key, close harmony, penny whistle and undertone of autoharp, accentuating this mythical heroine's travels from the familiar to the unknown.
 Three of the songs on Elf King's Horn are offered as brief videos on her website - and if you decide to go there, hearing the tunes and harmonies while seeing changing views of Maxfield Parrish skies and idealized human and mythical creatures, as well as craggy and rough mountains worthy of Frodo Baggins' trip to Mount Doom - will be a visual and auditory pleasure. "Green the Hills" and "Fairy Tale" work particularly well as video clips. These we so nicely done it made me wish that more selections from the album were available in this audio-visual format.
 As for a truly beautiful melody, I could listen to the waltz, "Celtica" over and over. It is reminiscent of both Annie Laurie and Ashokan Fairwell, without being a copy of either. It's just a lovely instrumental waltz with clear penny whistle, sweet violin and our old true friend, the autoharp, chording below and tying things together...
Give this one a listen!
Nan Bovingdon
January in Anaconda, Montana"
Thank you, Nan for the very kind words!   I am so glad you liked it!